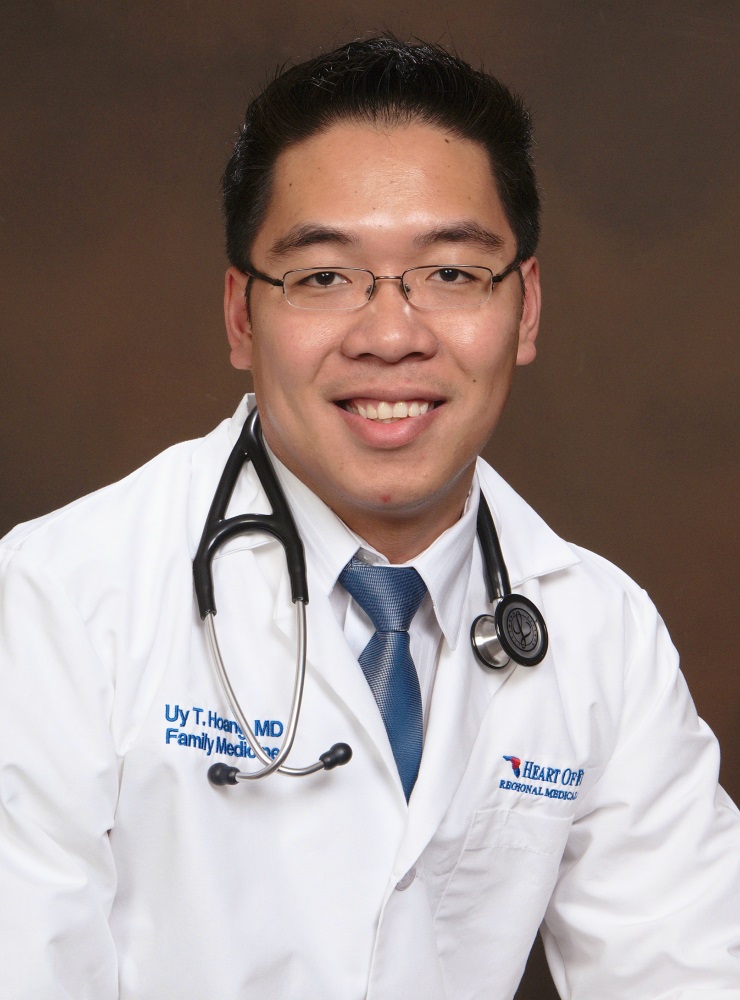 Mark Hoang, M.D.
Bachelor of Science (BS) in Microbiology & Cell Science, University of Florida, 2006
Doctor of Medicine (MD), Ross University School of Medicine, 2010
Residency in Family Medicine at Baton Rouge General Medical Center, 2010-2013
Board Certified, American Board of Family Medicine
Diplomate, American Board of Family Medicine, 2013
Scholarly Activity of the Year Award 2013, presented by Baton Rouge General Medical Center
Who's Who Among Family Physician
Fluent in Vietnamese

Doctor Mark Hoang immigrated to the U.S. when he was 6 years old and is fluent in Vietnamese. It has always been his passion to be a doctor starting from childhood. Doctor Hoang attended University of Florida for his undergraduate degree and majored in Microbiology and Cell Science. He attended medical school at Ross University School of Medicine and did clinical rotations at various hospitals and institutions across the U.S. including Wyckoff Heights Medical Center in New York, Dekalb Medical Center in Atlanta, Bayfront Medical Center in Tampa, and the Cleveland Clinic in Weston, FL. He has studied and learned from the most prominent physicians in their specialties has done rotations in various medicine and surgical sub-specialties. Doctor Hoang completed his residency at Baton Rouge General Family Medicine Residency Program, which is affiliated with Tulane University School of Medicine.
Doctor Hoang chose Family Medicine because of the scope of knowledge that the family practitioner has to master. Family doctors see all members of the family and treat minor conditions to very complex ones. They are the gateway that helps patients navigate the complexities of the healthcare system. They treat the disease with every arsenals available, encompassing many specialties. They treat patients with most up to date knowledge and evidence based medicine. Doctor Hoang believes it is the duty of a doctor to train others in the medical profession and regularly allows medical students and physician assistants to shadow him. He is currently employed part time for a hospitalist group and has extensive experiences with inpatient medicine. Doctor Hoang previously worked at Heart of Florida Regional Medical Center in Davenport, Florida, as a hospitalist doing inpatient medicine and has extensive outpatient experiences in a group practice in the past. He has also published a medical article for a medical software company and mobile apps for healthcare providers.
Doctor Hoang is widely regarded and praised by his patients, peers and colleagues. He is actively involved in the community and has done many community service activities including health fairs. Doctor Hoang is engaged in continuing medical education and keeps up to date with current medical information to incorporate into the evidence based practice, by attending conferences, lectures, and meetings, and in medical journals.